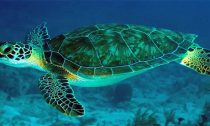 Researchers and conservationists who have been tracking turtle migration for over a decade believe a new study highlights the need for investment and conservation of vital marine habitats which play a key role in turtle's formative years.
The study has found that sub-adult green turtles in the UK Overseas Territory of the Turks and Caicos Islands will stay within a Marine Protected Area (MPA) while they are growing, but as they near maturity will migrate hundreds of miles across the Caribbean to search out adult feeding grounds.
The research, conducted by the Marine Conservation Society, the University of Exeter, the Turks and Caicos Islands Government's Department of Environment and Coastal Resources (DECR), and other partners including the Amanyara Resort, used flipper tags and sa...
Read More