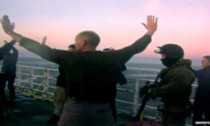 Fourteen Greenpeace activists, including at least four from the UK, have been charged with piracy by the Russian authorities. They were among a 30-strong crew on a Greenpeace ship that was protesting against oil drilling in the Arctic. The group was arrested last month after two of the protesters tried to board an oil platform owned by the Russian state-controlled firm Gazprom.
Greenpeace has called the charges "irrational, absurd and an outrage".
'Piracy of an organised group'
The 14 activists were taken from jail to the Murmansk office of the Investigative Committee, the Russian equivalent of the FBI, the BBC's Daniel Sandford reports from Moscow.
There they were formally charged with "piracy of an organised group", an offence that carries a 15-year prison sentence.
Those charged inclu...
Read More