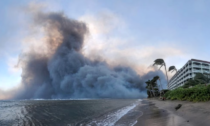 In addition to the tragic loss of life and property on fire-ravaged Maui, scientists are also concerned about the environmental damage, both on land and under water. Biologists who have spent decades studying marine life in Hawaii fear the aftermath will endanger coral reefs and other marine life.
"The corals are attached to the bottom of the ocean, they cannot move," said Dr. Jennifer Smith, director of the Marine Biology Research Division at UC San Diego. "So if you were to rain a bunch of sediment, ash, debris on top of them, they could essentially become smothered. Add to that a lot of this ash and debris could have chemical toxins."
Manuel Mejia with the Coral Reef Alliance in Hawaii said coral reefs require clean, clear, low-nutrient water to grow.
"When you have ashfall ma...
Read More