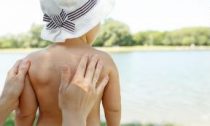 Hawaii Gov. David Ige on Tuesday signed the first bill in the country that will ban sunscreens containing chemicals harmful to coral reefs. The bill, which was passed by state lawmakers in May, will go into effect January 1, 2021. At that point, the sale or distribution of over-the-counter sunscreens containing oxybenzone and octinoxate, which help filter UV rays, will be prohibited.
A study by Haereticus Environmental Laboratory, a nonprofit scientific organization, found the chemicals cause bleaching, deformities, DNA damage and ultimately death in coral when they're washed off beachgoers or discharged into wastewater treatment plants and deposited into bodies of water.
"Oxybenzone is really toxic to the juvenile form of corals," said Craig Downs, a forensic ecotoxicologist and executive...
Read More