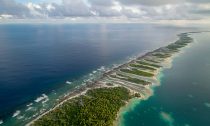 Just 13% of the world's oceans remain untouched by the damaging impacts of humanity, the first systematic analysis has revealed. Outside the remotest areas of the Pacific and the poles, virtually no ocean is left harbouring naturally high levels of marine wildlife.
Huge fishing fleets, global shipping and pollution running off the land are combining with climate change to degrade the oceans, the researchers found. Furthermore, just 5% of the remaining ocean wilderness is within existing marine protection areas.
"We were astonished by just how little marine wilderness remains," says Kendall Jones, at the University of Queensland, Australia, and the Wildlife Conservation Society, who led the new research...
Read More