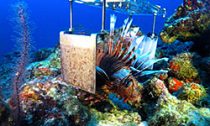 A US non-profit company has designed an innovative method of controlling the spread of lionfish threatening to devastate fish stocks and coral reef ecosystems in warmer ocean waters.
Robots In Service of the Environment (RISE) joined deep ocean research charity, Nekton, on its maiden voyage in the North Atlantic to test a prototype being developed to operate remotely in deep water to locate and deliver a fatal electric shock to the invasive species.
Nekton's research vessel was off the Bermudian coast conducting the XL Catlin Deep Ocean Survey, a pioneering multi-disciplinary marine research programme assessing the health and resilience of the deep ocean.
RISE, a start-up born in the robotics industry, joined Nekton's team of scientists to observe how the lionfish reacted to the protot...
Read More