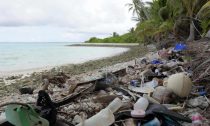 On the beaches of the tiny Cocos (Keeling) Islands, population 600, marine scientists found 977,000 shoes and 373,000 toothbrushes.
A comprehensive survey of debris on the islands – among the most remote places on Earth, in the Indian Ocean – has found a staggering amount of rubbish washed ashore. This included 414m pieces of plastic, weighing 238 tonnes.
The study, published in the journal Nature, concluded the volume of debris points to the exponential increase of global plastic polluting the world's oceans and "highlights a worrying trend in the production and discharge of single-use products".
The lead author, Jennifer Lavers from the University of Tasmania's Institute of Marine and Antarctic Studies, said remote islands without large populations were the most effe...
Read More