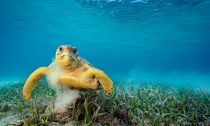 Loggerhead Sea Turtles migrate thousands of miles through the world's oceans, but they don't travel solo – research shows they carry surprisingly diverse and abundant populations of tiny creatures on their shells.
A new paper published May 20 in the journal Diversity shows that loggerhead sea turtles carry an average of 34,000 individual meiofauna – tiny organisms smaller than one millimeter – on their backs. One loggerhead carried nearly 150,000 individual animals on its shell, including nematodes, crustacean larvae, and shrimp.
"There literally is a [whole] world on there," says Jeroen Ingels, a marine ecologist at Florida State University. It's wild to find "that kind of diversity on another organism."
Ingels and his team discovered more than a hundred new species of meio...
Read More