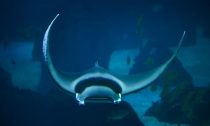 Researchers may have just found the devil's maternity ward… devil rays, that is. While taking a marine conservation field course in the Gulf of California as an undergraduate at Duke back in April 2014, Leo Chan Gaskins saw gillnets full of dead giant devil rays being hauled out of the ocean.
Based out of a small-scale fishing community in northern Sonora, the now doctoral student in marine science and conservation at Duke University's Nicholas School of the Environment watched as the fishers were unable to return the animals back to the watery domain due to just how big they were.
A large species, giant devil rays (Mobula mobular) can grow to 17 feet (5.18 m) long and are famous for beauty and graceful swimming that looks like they are flying underwater...
Read More