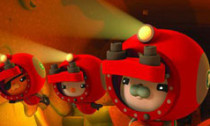 UK-based Silvergate Media's preschool adventure IP Octonauts has formed a partnership with Marine Conservation Society (MCS), one of the top charities for protecting UK seas, shores and wildlife. Kicking off this month, the initiative will see Octonauts featured in the MCS magazine, on MCS membership pack materials and across all MCS digital platforms.
An Octonauts presence will also complement a number of key MCS events in 2014 including M&S Big Beach Clean Up, the Beachwatch Big Weekend and the Ecover Blue Mile.
The new partnership further bolsters the Octonauts' core message of exploring, rescuing and protecting and comes on the heels of its partnership with the US National Oceanic and Atmospheric Administration (NOAA) in November 2013.
The Octonauts CGI series, which was just ...
Read More