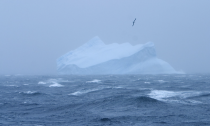 Ecosystems in the Southern Ocean around Antarctica face growing threats from climate change and fishing pressure, but identifying areas in need of protection is challenging. A paper published March 18 in Nature (together with a companion data paper in the journal Scientific Data) describes a novel solution to this problem, using electronic tracking data from birds and marine mammals.
"We identified common areas used by multiple species, which allowed us for the first time to evaluate how well Marine Protected Areas are serving the entire community of species in the Southern Ocean," said coauthor Luis Huckstadt, an assistant researcher in the Institute of Marine Sciences (IMS) at UC Santa Cruz.
Animals go to places where they find food, so identifying areas of the Southern Ocean where pred...
Read More