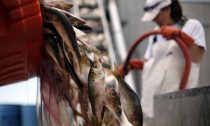 A big decision about the future of a little fish is attracting the attention of ocean conservation groups who say they are concerned about whether menhaden fishing can be considered sustainable. Industry players are petitioning the London-based Marine Stewardship Council to offer its well-known sustainability certification to the Atlantic Ocean and Gulf of Mexico fisheries for menhaden, a small schooling fish that plays a vital role in the ocean food web.
But menhaden is a little different than many of the species verified by the council, which mostly certifies food fish that are well-known to consumers, such as tuna and sole. Menhaden isn't served in restaurants or seafood counters — it's used for products such as fish oil, pet food, aquaculture feed and bait.
It's also the subject...
Read More