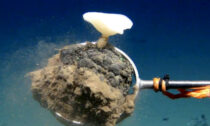 When a 27-ton mining robot called Patania II began vacuuming up metal ores from the bottom of the Pacific Ocean in April 2021, it was not alone. Global Sea Mineral Resources (GSR), the Belgian company that developed the robot, had a group of scientists watching its every move—or rather, an array of remotely-controlled vehicles equipped with cameras and other sensors.
GSR is one of several companies that hopes to begin mining the seabed on an industrial scale in the coming years, perhaps as early as 2024. Some are touting the seabed as a sustainable source of the metals needed to produce batteries for electric vehicles or smartphones. Meanwhile, scientists are trying to figure out just how much ecological damage deep-sea mining would do.
The short answer is a lot, according to the ...
Read More