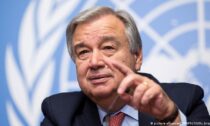 "The planet is facing a triple crisis — climate disruption, biodiversity loss and pollution," the United Nations Secretary-General said, adding that "we need the international community to intensify efforts to protect the ocean."
Speaking at the recent One Ocean Summit, UN Secretary-General António Guterres said, "The ocean shoulders much of the burden. It serves as a giant carbon and heat sink. As a result, the ocean is growing warmer and more acidic, polar ice is melting and global weather patterns are changing. Ocean ecosystems are suffering. So, too, are the communities who rely on them. More than 3 billion people depend on marine and coastal biodiversity for their livelihoods. The number of marine species is dropping. Coral reefs are dying.
"Coastal ecosystems have...
Read More