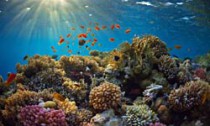 In 2015, 193 countries agreed on 17 global objectives for ending poverty and protecting the environment by 2030. These Sustainable Development Goals (SDGs) included SDG 14, to "conserve and sustainably use the oceans, seas and marine resources for sustainable development."
A new study by two former diplomats with the CONOW Competence Centre for International Relations published in the journal Marine Policy estimates that to hit the targets needed to achieve this SDG the world must spend $175 billion per year.
Reducing marine pollution will take more than half the money needed, according to the paper. At over $90 billion, that cost includes programs to clean up ocean trash, better manage waste and improve wastewater treatment plants. It also means investing in research on biodegradable plas...
Read More