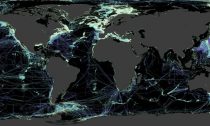 We've just become a little less ignorant about Planet Earth. The initiative that seeks to galvanise the creation of a full map of the ocean floor says one-fifth of this task has now been completed. When the Nippon Foundation-GEBCO Seabed 2030 Project was launched in 2017, only 6% of the global ocean bottom had been surveyed to what might be called modern standards.
That number now stands at 19%, up from 15% in just the last year. Some 14.5 million sq km of new bathymetric (depth) data was included in the GEBCO grid in 2019 – an area equivalent to almost twice that of Australia.
It does, however, still leave a great swathe of the planet in need of mapping to an acceptable degree.
"Today we stand at the 19% level...
Read More