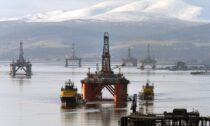 More oil and gas wells are to be drilled in the North Sea, the UK government has announced. The decision has angered environmental campaigners, who say the government should refuse new licences. Ministers say permission to drill will be granted as part of a careful transition away from fossil fuels, safeguarding jobs and the economy. But environmentalists say that enough fossil fuels to ruin the climate have already been found.
In light of this, they say, the government should have refused the new licences.
They add that the decision undermines the UK position as leader of the vital UN climate conference in November, known as COP26.
But ministers insist that their strategy will work...
Read More