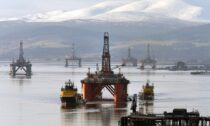 The UK has opened a new licensing round for companies to explore for oil and gas in the North Sea. Nearly 900 locations are being offered for exploration, with as many as 100 licences set to be awarded. The decision is at odds with international climate scientists who say fossil fuel projects should be closed down, not expanded. They say there can be no new projects if there is to be a chance of keeping global temperature rises under 1.5C. 
Both the Intergovernmental Panel on Climate Change (IPCC), the global body for climate science and the International Energy Agency (IEA) have expressed such a view.
The government's own advisers on climate change said in a report earlier this year that the best way to ease consumers' pain from high energy prices was to stop using fossil fuels r...
Read More