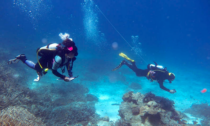 Des and Kelvin of Gladstone, Katy and Filimone of Fiji and Victor and Christina of Palau all have the same issue – reefs under their care face unprecedented threats. Reefs that have protected shores and supported local fisheries for thousands of years. Fisheries sustained through customary management rooted in traditional ecological knowledge accumulated over millennia, reflecting local peoples' deep understanding of their ecosystems.
They are not alone – the Pacific is home to 27% of the world's coral reefs and her island nations are particularly reliant on healthy oceans for food, income and coastal protection, says Dr Manuel Gonzalez-Rivero, Australian Institute of Marine Science.
New understandings and tools are needed to manage reef-bound islands and coastlines faci...
Read More