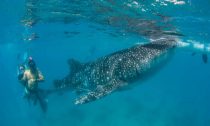 A study has shown how ecotourism in the Philippines has transformed people's attitudes towards marine conservation. Researchers from the University of Victoria in Canada and Large Marine Vertebrates Research Institute Philippines (LAMAVE), visited three sites where tourists pay to swim with whale sharks in the wild. They interviewed a range of locals who work for the tour operators in Oslob, Donsol and Pintuyan, including fishers and ex-whale shark hunters.
In all three locations people said their perception of whale sharks—and of the wider marine environment—had changed positively since the introduction of eco-tourism.
At Oslob, the largest of the three sites, people were more likely to speak about the resulting improvements to their quality of life and an increase in job opportuniti...
Read More