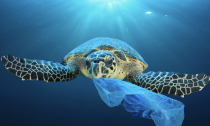 The amount of plastic pollution in the oceans is rapidly increasing. This is problematic, as at least 700 species of marine animals – including sharks, whales, seabirds and turtles – can become entangled in the stuff or mistake it for a tasty snack.
While we know that some species seem to eat plastic because it looks like jellyfish or some other food source, less research has been carried out into what plastic smells like to marine animals.
But now, a study from the University of North Carolina at Chapel Hill has found that the coating of algae and microbes that naturally builds up on ocean plastics causes the rubbish to give off the aroma of food.
The researchers took 15 captive-reared loggerhead turtles, each around five months old, and placed them in a laboratory aquarium...
Read More