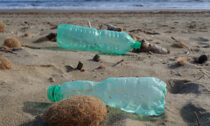 Plastic bags may remain intact for years in the marine environment. Plastic products certified to be industrially compostable are no solution for littering, as they do not degrade efficiently in the environment and continue to pose a threat to wildlife as they break down. Credit: Eleonora de Sabata / Clean Sea LIFE
St David's, Wales, Jul 1 2021 (IPS) – Documented images of albatross chicks and marine turtles dying slow deaths from eating plastic bags and other waste are being seared into our consciences. And yet our mass pollution of Earth's seas and oceans, fuelled by single-use plastics and throw-away consumerism, just gets worse.
Plastic debris is estimated to kill more than a million seabirds, 100,000 marine mammals and countless sea turtles every year...
Read More