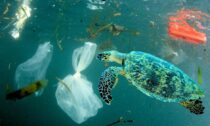 An agreement to negotiate a new legally-binding treaty to end plastic pollution has been hailed as "the most significant environmental multilateral deal" since the Paris climate accord, by the UN Environment Programme. Representatives of 175 countries backed a resolution at the UN Environment Assembly (UNEA) in Nairobi to draw up an international legally binding agreement by 2024 to help end plastic pollution.
"Against the backdrop of geopolitical turmoil, the UN Environment Assembly shows multilateral cooperation at its best," said the President of UNEA-5 and Norway's Minister for Climate and the Environment, Espen Barth Eide.
Plastic production has soared from two million tonnes in 1950 to 348 million tonnes in 2017, and is expected to double by 2040.
But plastics, made from o...
Read More