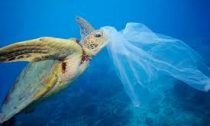 Sales of single-use plastic bags at the seven biggest retailers in England have plummeted by 90 per cent since the introduction of a 5p charge in 2015, Government figures show. The decline was hailed by the newly installed Environment Secretary, Theresa Villiers, as "a powerful demonstration that we are collectively calling time on being a throwaway society". Campaigners against plastic also welcomed the impact of the charge, credited with a dramatic change in consumer behaviour.
It follows huge falls in plastic bag use in Wales, Scotland and Northern Ireland which all introduced the levy sooner.
Britain beating plastic bags
Julian Kirby of Friends of the Earth said: "What an amazing difference good legislation makes...
Read More