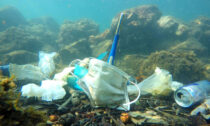 Divers have gathered shocking images of the devastating impact disposable masks are having on the environment and our oceans, ending up washed-up among coral reefs and damaging the health of marine animals. The coronavirus pandemic has caused a surge in pollution, adding to the plastic waste that is already threatening marine life. Divers have seen throwaway facemasks and plastic gloves floating around the ocean like jellyfish.
Environmentalists have warned how sea creatures such as turtles, whose habitat are the tropical waters close to Manila, the Philippines, will be unable to distinguish food from plastic waste.
Since March 2020, the RSPCA has said they have had to help more than 900 animals caught in discarded PPE, the majority being birds...
Read More