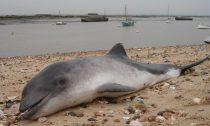 Long-lived banned industrial chemicals may be threatening the fertility of male porpoises living off the UK. Polychlorinated byphenyls (PCBs) were phased out decades ago, but can build up in whales, dolphins and porpoises. Scientists say harbour porpoises exposed to PCBs had shrunken testicles, suggesting an effect on sperm count and fertility.
They say that while these are preliminary findings, more must be done to clean up the oceans.
PCBs have been linked with a number of threats to whales and dolphins, but research has focused on mothers and their young.
A study led by scientists at the Institute of Zoology at the Zoological Society of London (ZSL) found high levels of PCBs were linked to smaller testicles in otherwise healthy animals.
They think this could have an impact ...
Read More