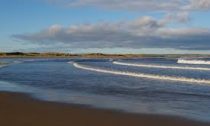 More than half of the UK's global waters are set to be within Marine Protected Areas, putting the UK at the forefront of calls to protect 30 per cent of the world's ocean by 2030.
The UK Government has backed plans by Ascension Island to designate over 150,000 square miles of its waters as a fully protected 'no-take' Marine Protected Area (MPA) – closing the off-shore area to any fishing activity and safeguarding important marine habitats for future generations.
When protected, the new no-take zone around Ascension Island would bring the total percentage of MPAs in the UK's territorial waters, Overseas Territories and Crown Dependencies to over 50%...
Read More