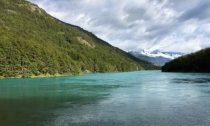 This week, Chile's President Michelle Bachelet signed a decree allowing the creation of the Network of National Parks of Patagonia and the protection of marine areas in different areas of the South American country, in a move to boost her legacy two weeks before leaving power.
The marine areas contemplate the areas of the Juan Fernández Archipelago, Diego Ramírez Islands, Rapa Nui, Seno Almirantazgo and Tortel, totaling eight marine parks and six coastal marine areas of multiple, reaching 42.4 percent.
In all, protections added during her four-year term cover some 1.3 million square kilometers (509,000 square miles) of ocean.
The Rapa Nui area alone accounts for some 720,000 square kilometers home to at least 142 species of marine life found nowhere else, of which 27 are threatened or ...
Read More