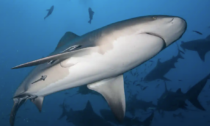 Nearly two-thirds of coral reef shark and ray species worldwide are threatened with extinction, reports a new study in Nature Communications. This build on a study in 2020 that found that reef sharks across the globe are in decline, missing from 19% of the world's coral reefs. At the time, this was the greatest decline of reef sharks ever recorded, but these recent results suggest that the extinction risk of coral reef sharks and rays, as a percentage of threatened species, is almost double that of all 1,199 known shark and ray species.
"The findings highlight the need for immediate conservation action for these species through local protections, fisheries management and enforcement, and Marine Protected Areas," stress the authors of the new study.
Coral reef ecosystems ar...
Read More