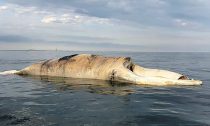 Marc Palombo has been fishing lobster for 41 years, and he wants fishermen who come after him to be able to do the same. That's why he's testing a new type of fishing gear that, along with other efforts in New England and Canada, is being designed to avoid harming North Atlantic right whales.
The number of North Atlantic right whales, one of the world's most endangered large whale species, has declined from about 500 in 2010 to about 400 in 2019. This year, about 10 have been found dead, but that number is uncertain.
Not one of the nearly 30 right whale deaths in the last three years has been attributed to natural causes, said Philip Hamilton, a research scientist with the New England Aquarium, which maintains a catalog of North Atlantic right whales. Mr...
Read More