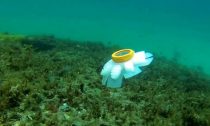 A fleet of robotic jellyfish has been designed to monitor delicate ecosystems, including coral reefs. The underwater drones were invented by engineers at Florida Atlantic University and are driven by rings of hydraulic tentacles. The robots can squeeze through tight holes without causing damage.
One expert praised the design but warned that the man-made jellyfish might be eaten by turtles.
The flexible, 20cm-wide bots are modelled on the appearance of the moon jellyfish during its larval stage.
The design is intended to be less environmentally disruptive than a drone submarine, according to Prof Erik Engeberg, of Florida Atlantic University.
"Mini-submarines are rigid and typically use a propeller for locomotion," he said...
Read More