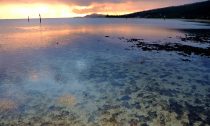 Submarine groundwater discharge — the flow of fresh water from land through the coastal seafloor into the ocean — is changing the metabolism of coral reef ecosystems, according to California State University, Northridge marine biologist Nyssa Silbiger, which can affect coastal economies around the world.
The findings by Silbiger and her fellow researchers, Megan Donahue with the Hawaii Institute of Marine Biology and Katie Lubarsky with the Scripps Institution of Oceanography, have implications for understanding human impacts on marine ecosystems, as well as informing the decisions of policy makers as they consider coastal development or anticipate the impacts of sea-level rise.
"If we can understand how actions and decisions made miles away from the ocean affect marine ecosyste...
Read More