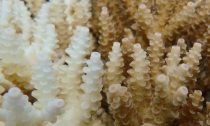 Scientists have found that dramatic changes in ocean salinity trigger the same stress response in corals as extreme heat. For example, when severe freshwater flooding greatly reduces the salinity of the seawater, corals can experience potentially fatal "freshwater bleaching."
The researchers used the sequenced genome of the common reef-building coral Acropora millepora to detect changes in the coral's biology when exposed to a sudden drop in seawater salinity. The experts observed a biochemical response which was similar to that from marine heatwaves, but potentially more damaging.
"Using the sophisticated labs at the National Sea Simulator, we put both young and adult corals under a salinity stress test to see how they respond to differing salinity concentrations," said stu...
Read More