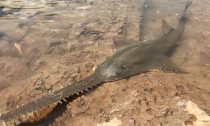 They are the most extraordinary of fish, resembling "hedge trimmers with fins". The sawfish, which is a kind of ray, is also among the most endangered of the fish living in the oceans. Once found along the coastlines of 90 countries, the animals are now presumed extinct in more than half of these, according to a new study. 
They are vanishing due to habitat loss and entanglement in fishing nets, experts have said.
Their "saws", which evolved to sense and attack prey, have now become a liability, making them prone to being caught up in fishing gear.
"Through the plight of sawfish, we are documenting the first cases of a wide-ranging marine fish being driven to local extinction by overfishing," said Prof Nick Dulvy of Simon Fraser University (SFU) in British Columbia, Canada.
O...
Read More