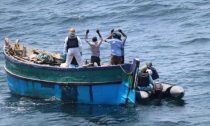 In a coordinated mission that involved air and sea-based assets, the Indian Coast Guard apprehended a fishing boat that was attempting to smuggle sea cucumber, an endangered species, into Sri Lanka.
The apprehended fishing boat was carrying 1 ton of sea cucumbers, which are valued at about $683,000 USD. The fishing boat along with three crew members have been brought to Tuticorin for further investigation. 
The interception of the boat had taken place on Saturday noon and the boat was just about 3.5 miles from the International Maritime Boundary line. The boat was intercepted off the Mandapam coast. The north western tip of the Sri Lanka is easily accessible(in terms of distance) from the areas surrounding Mandapam town in Tamil Nadu...
Read More