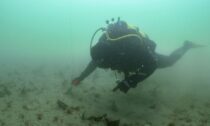 A project to reintroduce seagrass in Plymouth Sound has seen only 6% of seeds germinated. The National Marine Aquarium said it was now switching to seedlings already growing on matting to increase yields. Seagrass is seen as a way of fighting climate change by absorbing carbon dioxide from the atmosphere.
Thousands of seed bags were dropped onto the sea floor in 2021 in a £2.5m project to grow eight hectares (80,000 sq m) of meadow in Devon and Hampshire.
But the seeds became lost or buried by tides, said Mark Parry from the National Marine Aquarium in Plymouth.
"The idea is that we germinate the seeds in a closed environment where we can tightly control those conditions," he said.
"We get a higher germination rate, we allow them to develop their roots and the rhizomes to spr...
Read More