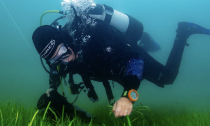 A million seagrass seeds are being planted as part of Britain's largest project to save the "wonder plant". Experts say seagrass helps tackle the effects of climate change by absorbing carbon dioxide faster than trees. But up to 92% of the plant may have disappeared from the UK's coast over the last century, research has found.
Work has now started on lowering the seeds onto the seabed off Pembrokeshire to create a new 20,000 sq m (215,280 sq ft) meadow.
Scientists hope it will also help boost fish numbers and support marine wildlife.
Seagrass, which is found in shallow waters of coastal regions, has been declining globally at a rate of about 7% a year since 1990.
That is a result of long-term development of our coastlines and pollution of the sea, according to project leader Dr Richard ...
Read More