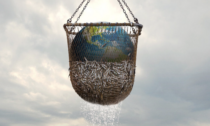 A documentary about the fishing industry's impact on sea life and the oceans has caused a lot of debate. Many viewers have been saying they will no longer eat fish after watching the film, and expressed shock at the industrial scale of fishing. Others have argued it oversimplifies a complex issue – many communities depend on fishing for their livelihoods and for food, and are in fact practising sustainable catching methods.
We looked into some of the main claims in the Seaspiracy film on Netflix.
Claim: Oceans will be 'virtually empty' by 2048
"If current fishing trends continue, we will see virtually empty oceans by the year 2048," says Ali Tabrizi, the film's director and narrator.
The claim originally comes from a 2006 study – and the film refers to a New York Times art...
Read More