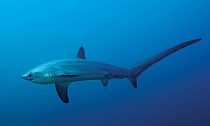 Conservation of our natural world has never been so important; in fact, the environmental journalist John Vidal called biodiversity loss a "crisis even bigger than climate change." Thirty-one percent of the world's sharks and rays are threatened with extinction according to the International Union for Conservation of Nature (IUCN).
These declines led to an interest in their conservation and sustainable management and one of the ways scientists and conservationists are coming together to protect sharks and marine biodiversity is through marine protected areas. Known better by their acronym, MPA, they are like the national parks we have on land in that human activities are strictly regulated than the surrounding area (or in this case, waters).
These places are given special pr...
Read More