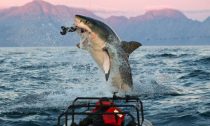 Only a few years ago, scientists estimated there were between 300 and 500 great white sharks in South Africa's False Bay. Now, they have completely disappeared. While local surfers might have relaxed, the absence of the apex predators is alarming to scientists, and the lucrative industries that rely on their presence.
"I've spent my entire life in the field watching these animals on a daily basis," local cage dive operator and wildlife photographer Chris Fallows says.
"When the waters go quiet, both above and below the surface, and these predators are not there, it sounds huge alarm bells."
It's unclear what will happen to marine ecosystems if sharks aren't there to keep them in check.
Tamlyn Engelbrecht, research manager at local shark safety program Shark Spotters, has been studying sha...
Read More