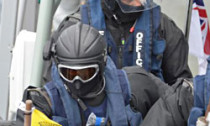 HMNZS OTAGO departed Dunedin yesterday to monitor fishing activities in the Southern Ocean. New Zealand-designated Conservation of Antarctic Marine Living Resources (CCAMLR) inspectors from the Ministry for Primary Industries will be on board to conduct compliance checks on the Southern Ocean's legal fishing fleet.
"New Zealand takes its commitment to Southern Ocean conservation seriously. It is vital that, as a CCAMLR member, we play our part in tackling illegal fishing activities," Foreign Affairs Minister Murray McCully says.
Having conducted patrols in the Southern Ocean for the last three seasons, HMNZS OTAGO has sound operational experience of the extremely challenging weather conditions.
"HMNZS OTAGO deployment is a good example of the way New Zealand Defence Force assets support...
Read More