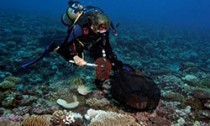 During October and November the Khaled bin Sultan Living Oceans Foundation removed more than seven thousand (7,396) coral-eating Crown of Thorns starfish (COTS) from vulnerable reefs in the Maldives. Foundation scientists worked with divers from local resorts as part of the Foundation's ongoing Starfish Control and Removal (SCAR) Program to protect reefs from the damaging effects of the coral-eating starfish.
According to Dr. Andrew Bruckner, Chief Scientist for the Khaled bin Sultan Living Oceans Foundation, "This was an uncommon opportunity for recreational divers, dive operators and local divers to take an active role in conserving the reefs they value."
The timing of the projects was designed to protect any bleaching-resistant corals from predation in advance of a possible warming and...
Read More