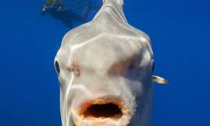 A fish normally found in tropical waters has twice been spotted off the west coast of Scotland last week. It is the fourth time this year that the sunfish has been recorded by the Hebridean Whale and Dolphin Trust. The ocean sunfish is the heaviest bony fish in the world, with an average weight of 2,200lbs (998kg). The species was recorded on Friday by the crew of a fishing boat off the north coast of Skye. A sunfish was also seen off Ardnamurchan on Wednesday.
Sunfish, which drift with ocean currents, were once rarely seen in Scotland, but boat operators have reported more sightings in recent years, with August being the peak month.
They live on a diet of mostly jellyfish and swim at depths of up to nearly 2,000ft (610m).
Read More