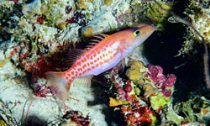 Looking for fish under pressure. Two marine biologists say they've set a record for the deepest underwater survey performed by human divers, at 136 metres down, off the coast of Pohnpei in the Federated States of Micronesia.
"We are seeing a lot of species previously unknown to science," says Luiz Rocha at the California Academy of Sciences in San Francisco.
He and Hudson Pinheiro at the University of Santa Cruz have been looking for new fish species at these little-explored depths. The previous record for the deepest human survey, also set by Rocha's team, was 130 meters. Many of the species they have seen are found only in these deep reef habitats.
The discoveries have their risks...
Read More