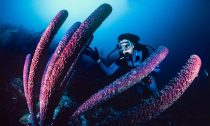 As one of conservation's most accomplished and recognizable leaders, Sylvia Earle has campaigned on behalf of the ocean for half a century. Now well into her eighties, Earle maintains a demanding schedule of exploration, education, and advocacy work that has her spanning the globe and meeting with everyone from world leaders to school children.
Although it is often out of mind to the general public, the ocean is critical to life on Earth, says Earle, who has broken many exploration records in her long career, earning her the nickname "Her Deepness."
"The ocean is so much more than fish," says Earle, who is also a Rolex Testimonee. "Think carbon cycle, think climate, think the chemistry of the planet that has shaped all life on Earth."
Earle has inspired millions of pe...
Read More