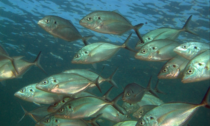 The federal government will spend $20m to buy out fisheries in Australia's south-east in part because the climate crisis is affecting population numbers of some species, making current fishing levels unsustainable. The Australian Fisheries Management Authority will buy back vessel permits in the south-east trawl fishery, which is the largest commonwealth-managed fin fish fishery in Australia.
It is the first time the authority has said it will conduct a buyout because of climate change and environmental factors, which are preventing the recovery of some populations.
The government announced $24m in the March budget for a structural adjustment package for the fishery, the bulk of which is for the buyouts to try to ensure its long-term sustainability.
The authority told a Senate ...
Read More