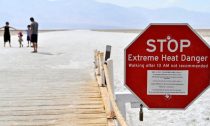 Joe Biden's plan to tackle climate change has been described as the most ambitious of any mainstream US presidential candidate yet. Our environment correspondent Matt McGrath considers what he wants to do, and how he might get it done. Much will be made about Joe Biden's pledge to re-join the Paris climate agreement, the international pact designed to avoid dangerous warming of the Earth. President Trump pulled out of the deal after the Obama administration had signed up in 2016, and during the drawn-out election count, Mr Biden confirmed that reversing the decision would be one of his first acts as president.
But key to his credibility on the international stage will be his domestic policies on cutting carbon emissions.
More radical Democrats such as congresswoman Alexandria Ocasio...
Read More