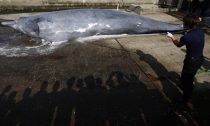 Six-year-old Reto Aisaka was jumping up and down on the windswept dock. For five months, he'd been counting the days until his dad, Toru, returned from a whale hunt. The boy was up at dawn to meet him. Shimonoseki, on the westernmost tip of Japan's main island of Honshu, celebrated the return of its small whaling fleet late last month.
The mother ship, Nisshin Maru, carried the meat from 333 Antarctic minke whales. But it was a celebration that masked deep uncertainty about the future of Japan's whaling industry.
The whales were taken under the guise of research – a designation that has kept Japan's whaling industry alive despite a three-decade moratorium on commercial whaling.
These were the last Japanese whalers to return from the rich waters of Antarctica's Southern ...
Read More