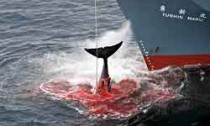 Celebrities and environmentalists are demanding Japan reverse its decision to resume whaling, condemning the "cruel and archaic practice which has no place in the 21st century".
An open letter to the Japanese prime minister, Shinzō Abe, criticises Tokyo's decision to leave the International Whaling Commission (IWC), as campaigners plan a peaceful protest march on the Japanese embassy in London on Saturday.T

The actors Ricky Gervais and Joanna Lumley, the broadcasters Stephen Fry and Ben Fogle, and the naturalist Chris Packham are among signatories. Packham said: "To the utter disgust of the rest of the world, Japan intends to resume killing whales. We don't need statements of disgust, we need sanctions that will hurt...
Read More