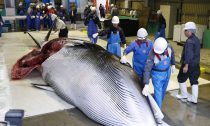 Five small boats set out from Japan's northern port of Kushiro on Monday with a simple aim: to find and kill minke whales. By 5 p.m., they had their first catch, according to activists following them. The ships would go on to catch another, Kyodo News Agency reported. Japan's whalers hope to catch and kill hundreds more whales by the end of the year.
The hunt marked the official resumption of Japan's commercial whaling industry after 31 years — and, with it, new controversy about the country's insistence on whaling, despite concerns about cruelty and conservation, and amid dwindling consumer demand for whale meat.
On Sunday, Japan officially left the International Whaling Commission (IWC), an international organization that seeks to help conserve whales in the wild, whic...
Read More