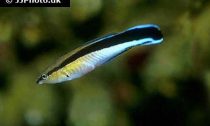 Some fish may be a little smarter than you think. In a study conducted by the Max Planck Institute for Ornithology and Osaka City University, researchers have discovered that fish may, in fact, possess far higher cognitive abilities than previously thought. The fish in the study seemed to demonstrate some form of self-awareness.
The fish the, Labroides dimidiatus, was the star of the experiment. For the uninitiated  Labroides dimidiatus or the Bluestreak cleaner wrasse, is a fish commonly seen in coral reefs from Eastern Africa and the Red Sea to French Polynesia.S
As implied in the name, the Bluestreak cleaner wrasse is known for its cleaning ability. The fish has mutualistic relationships with a lot of the other much larger fish found in corals...
Read More