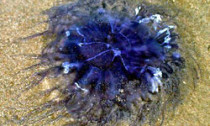 A jellyfish usually found in colder waters has been discovered stranded near Newquay, Cornwall. The unusual blue jellyfish was spotted by a group from the Manor House Activity Centre in St Issey. The jellyfish, found at Trevone Bay, has been given to the Blue Reef Aquarium in Newquay.
"We've seen several washing up over recent weeks but this is the first live specimen we've come across," Lee Charnock from the aquarium said.
"Full-grown specimens can reach up to 15 centimetres in diameter and have metre-long stinging tentacles which they use to catch their prey."
There are more than 200 known species of jellyfish. The blue jellyfish is usually found in the western Pacific around Japan and off the west coast of Scotland.