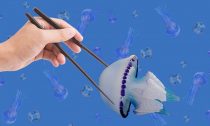 We should be eating more jellyfish if we want to save the planet, says new research.
Scientists at the University of Queensland, Australia say we should be increasing our consumption of jellyfish worldwide, in order to protect threatened fish species and safeguard marine conservation efforts. Fishing is an ongoing threat to 96 per cent of threatened fish species, and the only ongoing threat for some, according to the IUCN.
The research found that 91 globally threatened species of fish are being legally caught on an industrial scale. Around 15 per cent of these species are traded internationally, mainly for consumption across Europe. This includes fish like haddock, Atlantic horse mackerel, and bigeye tuna.
"It should be illegal to eat something that is threatened by extinction, ...
Read More