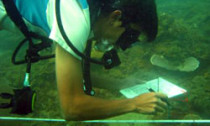 The coral reefs in Labuan are healthy but there are concerns over the depletion of commercially valuable species like groupers and lobsters. This is based on a survey off Labuan conducted for the first time by Reef Check Malaysia (RCM) which found that at least 50% were live corals at the sites that were surveyed earlier this month. RCM programme manager Alvin Chelliah said that the live coral coverage was very good as they noticed a high diversity of coral species and marine organisms.
However, he said they were concerned about a lack of commercially valuable species.
"The Reef Check survey is based on identifying indicator species on the reefs. For example, we look for common reef fish like groupers, which are highly sought after for consumption.
"Throughout our survey, we only recorded one grouper over the size of 30cm or one adult grouper," Chelliah said, adding that they only managed to record the presence of one lobster during the survey conducted jointly with the Department of Marine Parks Malaysia.
It was conducted as a satellite event under the Science, Technology and Innovation Ministry's Coral Triangle Day commemoration. Chelliah said they believed that fishing activities in the survey sites might be the cause as the coral reefs were in a healthy state. RCM general manager Julian Hyde also expressed concern that fishing was being carried out within the one nautical mile of the Labuan Marine Park which was gazetted in 1994. He said the RCM would continue to monitor the situation by surveying Labuan's reefs annually.
"It is only by comparing the data from year to year that the success rate of management efforts can be measured.
"Hopefully, we will record more numbers of commercially valuable species in next year's survey," he said, adding that they would work with Marine Park officials to ensure fishing was strictly prohibited.
Labuan is part of the Coral Triangle Initiative under the multi-lateral partnership between the governments of Indonesia, Malaysia, Papua New Guinea, the Philippines, Solomon Islands and Timor-Leste to safeguard the region's marine and coastal biological resources. The Coral Triangle Initiative seeks to address poverty reduction through economic development, food security, sustainable livelihoods for coastal communities, as well as biodiversity conservation through the protection of species, habitats and ecosystems.