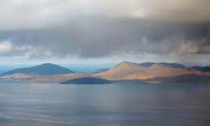 Campaigners in the Outer Hebrides have reacted with dismay after the Scottish Government announced the designation of the Sound of Barra as a marine Special Area of Conservation (mSAC). The ruling by environment minister Paul Wheelhouse means the sea and sandbanks between Barra and South Uist will go forward to the European Commission for inclusion in plans for an EU-wide network of SACs. The move follows a recommendation for designation from Scottish Natural Heritage last November – despite local concerns about restrictions on traditional livelihoods such as fishing and lack of accountability.
Action group Southern Hebrides Against Marine Environmental Designations (SHAMED), doubted whether eco-tourism would compensate for reduced fishing revenues.
Chairman Angus MacLeod said from his prawn boat in the south Minch: 'We have lost all faith in the government and their promises and assurances.
'The minister has stated it will be of benefit to tourism – but Barra already has a very good tourism industry as it is.
'The government's own report has recognised that designation will hit the economy to the value of £1 million per annum.
'There is no way tourism will make up that kind of balance and even if it did Barra does not have the infrastructure to deal with that.'
He added: 'We have always said if the government was serious about local management for a marine designated area they should start with Mingulay reef [already an SAC] before progressing with any decision on the Sound of Barra.
'Now the minister has rubber stamped the designation it is under European control – and I can't see how any local management plan will work.'
After meeting islanders earlier this year, Mr Wheelhouse, removed Traigh Mhor beach airport on Barra from the mSAC and vowed strong local input. He said: 'The concerns of the local community have been taken into consideration and we will be implementing a new bottom-up approach to the management structure to ensure as much local involvement as possible.
'I hope that they will be reassured by my decision to focus the SAC on only relevant habitats and reduce down the overall size. I also believe that a viable local fishing industry can be fully compatible with SAC designation.
He added: 'I look forward to visiting again shortly to discuss the next steps with the local community.'
European law requires the establishment of SACs to protect rare and threatened habitats and species. The sound was selected for its harbour seals, sandbanks and reef habitat.