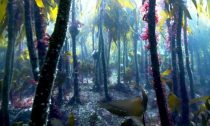 Scientists have discovered kelp off the coast of Scotland, Ireland and France that has survived since the last ice age, around 16,000 years ago. Experts from Heriot-Watt University's Orkney campus analysed the genetic composition of oarweed from 14 areas across the northern Atlantic ocean. The team found three distinct genetic clusters.
It is hoped the discovery could help show how marine plant life survives extreme changes in climate.
Dr Andrew Want collected samples from Kirkwall Bay, near his home.
The marine ecologist said the "refugee populations" managed to hang on and survive "amid dramatic changes".
'Critical role'
Dr Want, who is based at Heriot-Watt's International Centre for Island Technology in Orkney, said: "Oarweed in Scotland and Ireland is more closely related to populati...
Read More