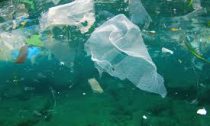 A package of funds to help local communities reduce plastic consumption is being launched at the first summit on marine litter in Oban. The one-day event brings together retailers, environmental groups and manufacturers to find new ways of reducing plastic in Scottish waters.
It has been organised by the Scottish government and comes on the eve of a ban on microbeads in Scotland.
Groups will be encouraged to create alternatives to single-use plastics.
Non-recycled plastic costs Scotland £11m annually
Why are microbeads controversial?
It could mean creating publicly available facilities which enable people to re-fill containers with drinking water rather than having to buy new bottles.
Another suggestion for the Action on Plastic Zero Waste Towns initiative is a scheme where takeaways are bought in returnable packaging.
'Change behaviours'
The supermarket Iceland, which recently installed Scotland's first "reverse vending" machine at its store in Musselburgh, is one of many retailers and environmental groups attending the summit.
Others include Caledonian MacBrayne Ferries, Highland Spring, the Marine Conservation Society and the Nae Straw at Aw campaign.
Environment Secretary Roseanna Cunningham said: "No one can escape the momentum that's been building around plastic waste and marine litter which is why we are bringing communities and the industry together at this summit to come up with new and innovative ways of tackling this problem.
"This new Action on Plastic project will help communities find ways of reducing and reusing materials and preventing them from polluting our seas."
She added: "As we approach another milestone in our fight against marine litter, when our ban on the manufacture and sale of rinse-off personal care products containing plastic microbeads comes into force, I would encourage every community and organisation in Scotland to consider what it can do to change behaviours and protect our environment."
The focus on marine plastics was generated by BBC's Blue Planet II series which highlighted the impact of human activity on marine life.
A ban was announced in January on the sale of plastic stemmed cotton budsand a consultation is under way into the creation of a deposit return scheme for bottles.
Chief executive of Zero Waste Scotland, Iain Gulland, said: "There's phenomenal interest right now on the back of the "Blue Planet effect" from people all over Scotland wanting to take action on reducing waste, especially single-use plastics.
"We're already supporting a number of trailblazer Zero Waste Towns and this new funding will help us to unlock even more great ideas led by communities to tackle our throwaway culture."