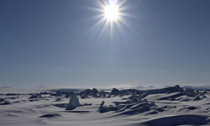 Sea-ice extent in the Arctic appears to have arrived at its yearly minimum, scientists report.
The US National Snow and Ice Data Center says this summer's marine floes were reduced in cover to 5.10 million sq km (1.97 million sq mi).
This low was reached on 13 September.
It represents almost 50% more ice than the spectacular satellite-era record-minimum achieved this time last year – when floes were reduced to just 3.41 million sq km (1.32 million sq mi).
The NSIDC describes this summer's cover as a "temporary reprieve".
Steadily warming conditions in the far north have seen the annual mean ice extent since 1979 – the beginning of continuous space-based observations – fall by about 4% per decade.
This year represents the sixth smallest cover recorded by the satellites. It is close in size to that seen in September 2009.
Dr Julienne Stroeve, a NSIDC research scientist, said the larger extent this year compared with 2012 was evidence of the natural variability in the Arctic system.
"This year, we've had pretty cold conditions in the Arctic compared to the last few summers," she told BBC News.
"So, for example, instead of having a high pressure centred over the central Arctic and the Beaufort Sea that tended to bring in warm air, we had a bunch of low-pressure systems. And that just kept things quite cool. But I think it's interesting that even though it was cold, we got an extent of 5.10 million sq km, which is still quite a bit below the long-term mean."
Computer models forecast that on current climate trends, the Arctic will eventually become ice-free in summer months.
Most of the models indicate this will happen before 2060, with the most aggressive simulations pointing to ice-free conditions occurring perhaps before the end of this decade.
Dr Stroeve said it was likely that the variation from year to year would become more exaggerated as the ice retreated.
"Even in the overall long-term decline, there are simulations that show you can have temporary recovery for a few years, even maybe 10 years. That's not outside the numbers," she said.
The NSIDC defines sea-ice extent as the total area covered by at least 15% of ice (because floes in summer become broken up and spread out).
Extent is different from thickness/volume, which scientists say is the better indicator of the status of the ice cover. This measure, too, is in long-term decline.
Provisional data released by the European Space Agency (Esa) last week indicated that floe volume likely hit a satellite-era record-low this past winter.
Esa's Cryosat spacecraft found there were just under 15,000 cu km of ice in March/April – the time of year when marine ice is at its thickest.
The mission team says it will get a sense for how this situation progressed into the summer melt season when the Autumn re-freeze gathers pace in a month or so's time.
In the Antarctic, winter sea ice reached its maximum extent on 18 September, NSIDC data shows.
The coverage was a tie with last year's record high of 19.45 million sq km (7.51 million sq mi).
Antarctic winter extent has been growing by about 1-2% per decade.
Cyrosphere specialists say the northern and southern poles have different marine-ice systems and so are not directly comparable, but that the shrinkage in the Arctic floes represents the more dramatic and significant behaviour.