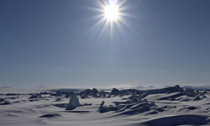 Sea-ice extent in the Arctic appears to have arrived at its yearly minimum, scientists report.
The US National Snow and Ice Data Center says this summer's marine floes were reduced in cover to 5.10 million sq km (1.97 million sq mi).
This low was reached on 13 September.
It represents almost 50% more ice than the spectacular satellite-era record-minimum achieved this time last year – when floes were reduced to just 3.41 million sq km (1.32 million sq mi).
The NSIDC describes this summer's cover as a "temporary reprieve".
Steadily warming conditions in the far north have seen the annual mean ice extent since 1979 – the beginning of continuous space-based observations – fall by about 4% per decade.
This year represents the sixth smallest cover recorded by the satellites...
Read More